ABOUT SCCCE
ART FESTIVAL
SCCCE platform supports the promotion of arts and culture and pass on traditional values, SCCCE kicked-off with fun filled-activities in conjunction with the Singapore Bicentennial commemoration. Singaporeans and global visitors alike were invited and took part of this momentous event where they experienced a slice of Singapore's milestones. There were Traditional Games like tikam tikam that brought back childhood memories shared with their families, Food Carts with mouth-watering traditional snacks and photo-worthy treats, creations of renowned artists were featured, our SG Bicentennial inspired photo booth and a Lucky Draw Session.
The theme is Integrity— that helps to bring across the importance of being whole and undivided, upholding strong moral principles and living with dignity. By writing the Chinese Character "诚", attendees partake in making the largest Chinese calligraphy collage. This record-breaking event was awarded to SCCCE in the Singapore Book Of Records for its mass participation since 2013.
BUSINESS ENTERPRISE FORUM
The Enterprise Forum is an exchange platform to further deepen the cooperation between local and overseas businesses and increase the international visibility of enterprises. Last year, our focus is on the Digital Silk Road, the digital infrastructure that serves as gateway to new business ideas, new evolutions and new connections. Our guest speakers are industry leading experts who will share their success stories and their journey in bringing their companies into the Digital story with success.
President's Challenge Charity Gala Dinner
President's Challenge is a movement supported by the kindness and generosity of people from all walks of life, regardless of culture, religion or family background to help the less fortunate. The President's Challenge Dinner is our appreciation night for all our sponsors. Artworks and cultural performances will be featured during the dinner. Once again, we are pleased to have President Halimah Yacob as our Guest-of-Honour.
Message/Speech delivery by:
Mdm Claire Chng, Chairperson of SCCCE Organising Committee, Golden Compass Education Group/School Managing Director
COVID has changed my perspective that we must always be adaptive and learn to be sustainable under any given circumstances. It has made us change and transform almost seamlessly and prompted all of us to upgrade our skills at every opportunity. One benefit of the COVID-19 pandemic is that it has accelerated digital transformation and raised awareness of the importance of information and communication technologies. To achieve progress, many of us have to learn how to scan QR code, going on zoom and having an online presence. Our SCCCE event has also moved online, where arts entries can be uploaded and participants can view the SCCCE art gallery online.
We have gotten this far today, because our government has stabilized the COVID situation. It is no longer mandatory for us to wear masks indoors.
In view of the economic development entering the new normal, the development concept of returning to the basics, go- green and sharing will do its part to build a sustainable future and create a healthy and authentic world.
This year our SCCCE art festival showcases the work of local artists from the Federation of Arts Societies', it is about the early days of Singapore illustrating how we had sustained and flourished. We also have art pieces from LACA, Fine Art and it is very heartening to see the preschool children contributing their parts for the SCCCE President Charity through their talents in arts. This is the first time; SCCCE is putting the arts pieces from the preschool category for charity fund raising.
"Kindness is never wasted. It always makes a difference. They bless the one who receives them, and they bless you, the giver."
Thank you SCCCE organizing committee members, our volunteers, our Golden Compass School graduates and students for all their supports and time committed, we had worked closely, our team each doing their part, has worked tirelessly.
We have our long term customers, business leaders from the business associations, entrepreneurs and our long-term working partners whom have contributed to the success of our dinner. On behalf of SCCCE Organizing Committee, we sincerely thank you for your continuous support and once again, wishing you all a pleasant evening.
献词:
翰墨传情主席兼金航教育集团主席庄朝喜女士
我们今天聚集在这里为翰墨传情总统挑战慈善晚宴筹款,一个简单的善举对不幸的人和社区都富有意义。 它使我们成为更和谐的社会。今年当我发邀请给国外的朋友,他们都问,可以出来吗?我们已经3年没出国啦。今晚将有海外朋友远程参与祝贺我们的活动。
我们感谢今天为表演作出贡献的各组织。 他们来自:
1)南洋女子中学
2) 培青学校
3)南洋艺术学院
4)东海岸集选区合唱团
5)陕西小天鹅艺术团及各艺术团体
有了你们的支持让我们的充满信心
感谢翰墨传情筹委会成员,我们的志愿者,我们金航学校的毕业生和同学们,感谢他们给予的支持和投入的时间,我们的团队每个人都尽自己的一份力量,孜孜不倦地为活动献力。
今晚,有我们的长期客户,来自商会的商业领袖,企业家和我们的长期工作伙伴。 我谨代表翰墨传情筹委会,衷心感谢你们一直以来的支持,再次祝愿大家度过一个愉快的夜晚。
A picture speaks a thousand words. This is a timeline of our stories for the past years that captures every special moments of SCCCE.
In The News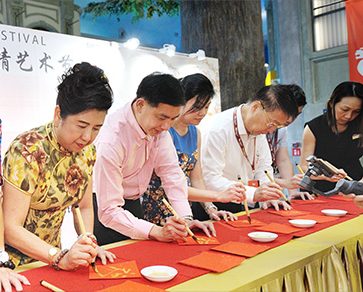 VIP guests are invited to write "福" to participate in record-breaking Singapore books of records.
Panel of entrepreneurs, lawyers and officials to discuss on Intellectual property – With the potential for business growth and expansion overseas, companies must know how to protect their rights and ensure their trade secrets are protected. How do you go about protecting your trademarks and intellect property without compromising...read more →